Current Landscape of the
Pet Care Industry
The pet care category is booming, spurred by pandemic adoptions. Experts predict an 8% annual growth in the pet industry by 2030. Pet owners are largely omnichannel shoppers, skewing younger with cats and dogs still claiming top spots.
Storytelling is the art of using words to create a compelling story to generate emotion and thus inspire action from your customers. A compelling story breathes life into a design, a brand, or a product. It injects meaning and fosters emotional connections with an audience.
Maximizing POP Display Effectiveness
Maximizing in-store POP display effectiveness requires a combination of great design, a clear understanding of display economics, and exceptional execution of all aspects of the POP display program. Many factors influence POP display effectiveness. These can include customer traffic flow, placement of the display, the overall design, and the message you want to promote.
Getting Inside Consumers' Heads
There's a lot of research out there about shopping patterns and what motivates consumers to buy. Read about the effect POP Displays, promotions, packaging, signage, and more have on consumers.
Designing in-store marketing materials can be both exciting and overwhelming. If you have a vision in mind, it helps to have a document to help you stay on track throughout the design process. If you have no idea what you want to do with your display or packaging, it helps to sit down and figure out what you need. You can easily do this through a design brief! Here is what you need to know to create your own:
Custom Box Inserts: How They Benefit Your Packaging
Your brand needs more than a brown corrugated box that is randomly filled with different fillers. Instead, your need to create an unboxing experience by using packaging extras like custom box inserts. Custom box inserts are packaging extras that can transform your packaging from drab to fab. These inserts go inside your packaging and are customized to fit your existing boxes and your specific products. Here are eight different ways that custom box inserts can benefit your packaging and overall business:
Why Product Label Design Matters
Product label design can help appeal to customers and beat out the competition right from the shelf. Product labels need to be strategically designed — paying close attention to the five components of content, material, color, finish, and size and shape. Here's how you can design the best labels.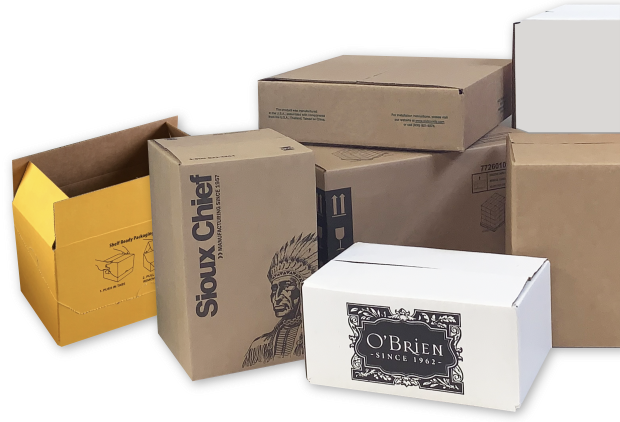 How to Build Your Brand With Packaging
Long before interacting with your product, your customers will be interacting with your product packaging. Packaging can be so much more than a nice product protector. It can tell the brand story, provide information to help the consumer make an educated purchase decision, or cause a consumer to make an impulse purchase.
Branding and Packaging: Why It's Important for Your Business.
Packaging is incredibly important for your business as it serves a variety of different purposes. Packaging not only tells customers about your product, but it also tells them about your company, albeit in a more subtle way. When done right, packaging can also help develop brand recognition which should be a goal of every company.
Point-of-Purchase Display Effectiveness: What are the benefits of POP Displays?
With the rise of ecommerce shopping, changing shopping habits, and emerging brands, retailers and brands are constantly challenged to stay on top. Effective point-of-purchase (POP) displays not only allows you to showcase spotlight items, but also encourage impulse purchases. Well-designed and properly placed POP Displays provide many benefits for retailers and brands when used consistently and effectively.
Creating An In-Store Experience Matters More Than Ever
The pandemic has changed consumer shopping habits that will continue to impact the retail experience in 2022 and years to come. Retailers and brands will continue to address consumer comfortability and habits formed around retail visits, navigation, safety, product choice and purchase behaviors. They've discovered that both in-store and online experiences are critical for winning in today's retail environment.
How to Choose the Right Packaging Colors
Long before interacting with your product, your customers will be interacting with your product packaging. Packaging can be so much more than a nice product protector. It can tell the brand story, provide information to help the consumer make an educated purchase decision, or cause a consumer to make an impulse purchase.
What the Future Holds for In-Store Marketing
The Path to Purchase Institute 26th Annual Trends Report examined a variety of key issues that were influencing the future of shopper engagement. Over a hundred CPG executives were asked about the strategic changes they made in marketing programs within the last year and what the future held for them. Many participants plan to employ omnichannel strategies, experiential marketing, and at-shelf tactics to drive shopper engagement inside stores going forward.
Overall, during "Cyber Week," (online spending from Thanksgiving Day through Cyber Monday), Adobe reported that shoppers spent $33.9 billion this year, down 1.4 percent year over year. E-commerce on Black Friday was down 1.3 percent, while Thanksgiving Day was flat.
Once again, retailers extended Black Friday events over the month of November and pushing customers to online as well as in-store. Early deals in the season and supply chain challenges caused consumers not to wait around for the typical Black Friday and Cyber Monday deals.
2021 Small Business Saturday in Review
According to the American Express' 12th Annual Small Business Saturday® report, 70 percent of respondents reported Small Business Saturday makes them want to encourage others to shop at small, independently-owned retailers.
Merchandising Best Practices: Compliance
Effective program execution relies on successful delivery and setup of displays or packaging in the correct location and with the right products. Four elements will influence compliance—channel, communications within the project team, program type, and execution method.
Merchandising Best Practices: ROI 
Calculating ROI starts with an understanding of three baseline sets of data to build the ROI equation: in-store execution data (on a store-by-store basis), material cost factors, and performance data.
Merchandising Strategies: Apparel & Accessories
The clothing and accessories we wear tell a story, from our professional lives to our personal lives, clothing plays a role. Then came the pandemic and those roles changed, at least for the time being. When customers returned to physical stores, retailers had to once again reimagine experiential retail.
Merchandising Strategies: Arts & Crafts
In-home leisure categories like arts and crafts thrived over the past two as people enjoyed the affordable in-home activity. During times of high stress, both emotional and financial, consumers enjoy activities that help them feel both relaxed and purposeful. This category looks to maintain the upward trend as the ongoing interest in crafts continues while the pandemic slowly continues.
Merchandising Strategies: Beauty & Personal Care
The biggest opportunities for beauty and personal care companies is developing products with attributes that aligned with shoppers' needs–personalized, inclusive, and clean. Opportunities like building a sustainable packaging strategy in the circular economy and investing in beauty technology also fills this industry with opportunities for emerging and established brands.
Merchandising Strategies: Home Improvement
The pandemic brought about an acceleration in spending for home improvement projects in 2020. Lockdowns and thus minimal competition for disposable income fueled the increase. According to the U.S. Department of Census, Monthly Retail Sales Report, sales of Home Improvement products rose 12.5 percent in 2020.
Merchandising Strategies: Household Care
The household care market in the U.S. has enjoyed mild steady growth over the years. Increased demand for the category over the past few years was the combination of consumers' increased focus on health, as they cleaned and disinfected everything around them more frequently, While cleaning products is a highly planned category (88% of buyers made some type of list before they shopped), almost two-thirds (65%) do not specify a brand on their list, and 60 percent are open to being influenced in store.
Merchandising Strategies: Lawn & Garden
Increased interest in DIY projects during the pandemic accelerated home improvement market performance. This coupled with the increase desire to spend time outdoors helped increase the sale of lawn and garden products. Users of lawn and garden consumables–particularly those in
the consumer/DIY segment of the market – gravitate toward easier-to-use products, including premixed blends of chemicals or soils with fertilizers, pesticides, and soil amendments.
Merchandising Strategies: Over-the-Counter (OTC)
On average, U.S. households spend about $442 annually on OTC products. As such, consumers have benefited from self-treating conditions such as the common cold, allergies, body pains, upper and lower gastrointestinal (GI) tract issues and difficulty falling asleep. The category remains strong in brick-and-mortar as consumers buy less than half of their OTC products online.
Merchandising Strategies: Sports & Outdoors
The sporting goods landscape continues to evolve as consumers focus more on health and wellness activities, participation rates in team sports change, purchases migrate online, and retailers continue to rationalize and consolidate. The pandemic brought about an increase in participation for categories such as outdoor individual sports, home exercise, etc.
Stay in Touch.
Please enter your contact information to receive our quarterly newsletter.